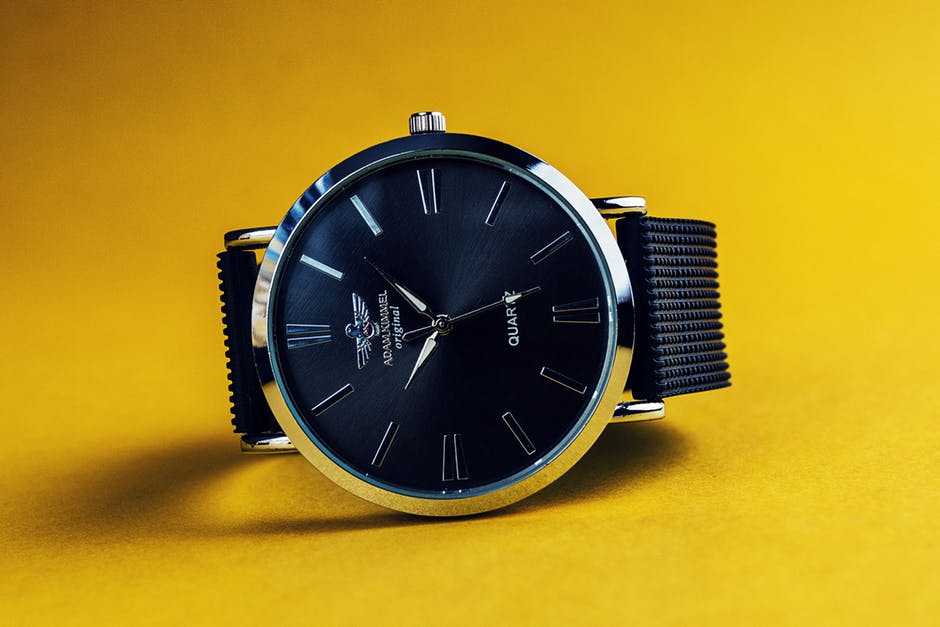 There is absolutely no need for you to use the excuse of being "fashionably late" when you can always be fashionably on time with all the luxury that your image deserves.

Even if you are looking for a low cost watch, either for yourself or for a gift, that doesn't mean you can only find low quality ones.

We all must know that when it comes to accessories, it's okay to keep a low budget; but for watches, you must make sure that you are actually making the right purchase.

So this article is made to help you, as a watch buyer, to choose one that fits a low budget, but also has a good design and can be long lasting.
1. Ponte Vekkio
Brega Watches on its own offers some low cost pieces you must definitely check out. The Ponte Vekkio is a watch that you can get for less than 140 USD, which is a really low price to pay for, considering Brega watches' high quality pieces.
 This is a watch you can get in six different color combinations, so you can choose the one that fits better with your style.
 If you, as a watch buyer, are looking forward to get this amazing piece for a great price, check here 
2. Terna
This is a very important one in our list, due to the fact that, besides of being a fancy and low-cost watch, this Kingsky watch also counts on a really fancy pink strap.

Every gentleman knows for sure that when it comes to buying a gift for a lady, jewelry is always the best choice; so you can go for a watch for once.

The Terna watch is such a good choice for almost any lady, and you can get this one for less than 50 euros, which keeps it as a low cost watch and still a gorgeous gift.

So we found this one very interesting, because of it's gorgeous and modern design, which fits with almost any style.
4.The Tauromenium
It is another great offer from Brega Watches that you must definitely not ignore. The Tauromenium is a gorgeous and elegant watch that you can also get for less than 140 USD.
This model features a leather strap, which you can choose to get in dark brown or a classic black.
This is a great watch for you if you're into a fancy but casual style, something that you can wear every day to give your outfit a very elegant touch.
 You can get the Tauromenium watch right now, on this link
5. Yachtman Chrono
If you're into changes, the Yachtman Chrono is the right watch for you in the market; this is due to its strap, which can be easily changed any time you want to.

This is a watch that has a strap that you can change into another one that fits better your outfit any time you want, and make it look completely different.

For a low cost watch, one of the best features one can ask for is the possibility to change the strap and wear different ones, so it doesn't look like you are always wearing the same watch, and also helps you match it with your clothes.

The strap we are talking about is made with fabric, so it keeps a casual style that turns the Yachtman Chrono into the best low cost watch to wear every day.
5.The Genova Marinaio
If you're into a sportive look, this Brega watch is the right one for you. Besides of its many features, this watch owes its attractive to its leather strap, which you can get on black or brown.
The Genova Marinaio's modern and casual design is something you will definitely admire, and what makes it even better is that you can get this Brega watch for less than 100 USD, and you can make your purchase online right now, here.
6. Eternal Classic
The rose gold fashion has been on for a long time now, and there's no doubt that the Eternal Classic is the right watch for any lady who's into that color.

What makes this Megir watch perfect is not only its classic design and fashionably colors, but also that you can get it for a low price, which is a very good news for gentlemen who are looking for the right gift for their ladies.

The quartz based movement and stainless steel strap makes this not only a gorgeous watch, but also guarantees high quality for a low price. The Eternal Classic watch is the best choice for any lady, and it guarantees to match a casual or fancy outfit either it's for the day or night.
7. Pure
This gorgeous Kingsky watch owes its name to its minimalist design, along with the pure lines and simple colors. It's a very feminine and sophisticated watch, which is a lot to get for its low price, along with its elegant and gorgeous design.

Also, the Pure watch contains Japanese quartz, which we also owe the elegance of the piece itself.
8. Moon
This is nothing but another Kingsky feminine watch for our list.

The Moon watch, along with its minimalist style and gorgeous elegant design, it's the perfect choice for any lady at a considerably low price.

We can find the watch's name represented with the subtle gold circles that stand along as substitutes of the numbers, which is perfect for a modern yet fancy design.

The pink leather strap makes this watch the perfect choice for a fancy or a casual lady, and it's a great choice to match most outfits.

All these details, along with its low price, make the Moon watch the perfect gift a gentleman can get for a lady who likes to be on time for any occasion.
9. Flyover Canvas
Even the aviator style lovers can find the right watch for them on this top 10.

This model has a leather and fabric strap; and comes with a stainless steel box with a 45 millimeter diameter.

After going on and on about feminine watches, we stop at the Flyover Canvas to assure that this one is the perfect choice for a manly style, and it's a very affordable one.
10. Shoreside
If you're looking for a low cost watch that is also resistant to sports or risk activities, the Shoreside is the right one for you.

This watch's strap is made by rubber hybrid and steel, and it has a non-conventional button that replaces the classic buckle and its buckle tongue.

The best part is that this watch, besides of all its features, comes in different colors you can choose from.

As said before, these are the best options if you're looking for a nice and good watch for a low price.
We notice that Brega Watches, on its own, has a great variety of low cost watches that we must not ignore.
 So now, you can check out all of the Brega Watches models and find what you're looking for.

So that's why in this article we find sports, casual and fancy watches, so you, as a watch buyer, can find what you're looking for and fit any style without going out of your budget.
---
---