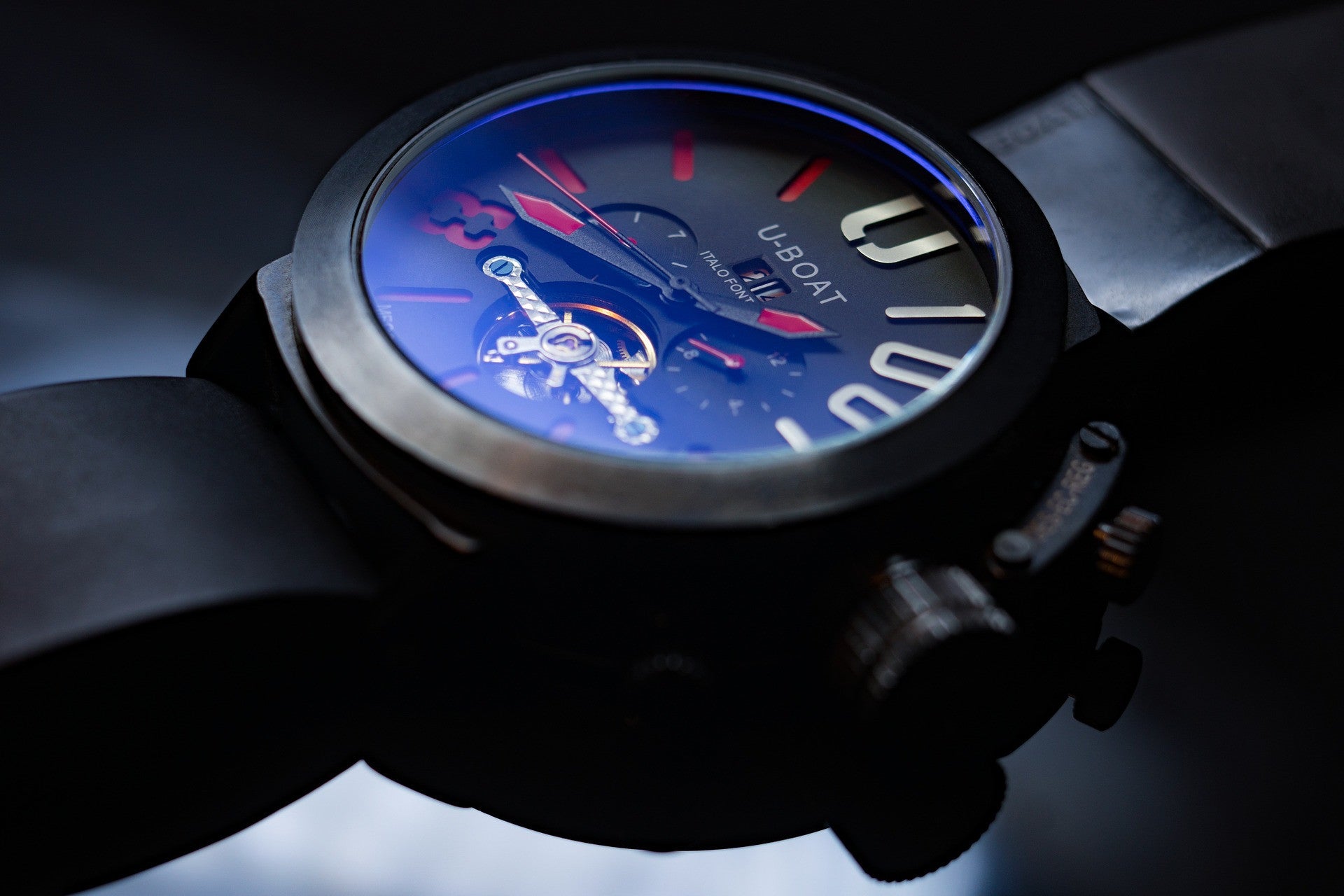 What is a chronograph watch?
Chronograph watches were introduced in 1910. A man called Nicolas Mathieu Rieussec invented them in 1821 but no one thought to make it into a wrist watch until eighty one years later. King Louis XVIII of France is very interested in watching a horse race, and he wanted to measure the timing of each race. Thus, Nicolas Mathieu Rieussec was hired to create a device to perform this job.
The first version uses a pen to write on the round dial. The length of the arc directs the elapsed time. The numbers are fixed on the round dial. In 1969 when three companies - Breitling, Hamilton and Heuer- collaborated to engineer the first automatic chronograph watch. This initial model was powered by the kinetic energy generated during normal walking arm motion and movement. A second type of chronograph watch is the modern digital version, which is battery powered. Modern brands of chronograph watches are Tissot, Casio, Citizen, Pulsar and Seiko... Higher end and designer watch brands are Kenneth Cole, Heuer, IWC, Movado and Omega...
They can be used for very specific time measurements, because they have the general time keeping on the main dial or the watch depends on the dials on the watch. You can have up to four dials and each one is designed for a different function. The dial that you see most often, of course, is the continuous seconds dial that is found in the middle of the main face. The rest of the sub dials have functions that measure the fractions of a second, minutes and hours. They also have a telemeter that measures distance and a tachymeter that measures speed.
The chronograph watch is a symbol of accuracy and precision, intended for the purpose of accurately measuring time within tenths or hundredths of a second. Though style is definitely a serious consideration, considering the amount of money that is being spent (though this is not as true with the lower end chronograph watches available from the lower tiers of manufacturers and brands), it is logical and practical to presume that a modern, classic or antiquated style should be part of the price package to complement the functionality and engineering quality built into the measuring instrument as a means of establishing the combination of price, quality, history, engineering and positive product reviews that will enable future sales and profitability.
The watches that the men wear today can do much more than just tell you the time. They are designed with many practical features such as stopwatches, calendars, alarms, digital readings and watches that you don't ever have to wind up anymore. A Chronograph watch can offer you several different ways of telling time and most people will want one for their collection. Used in many different situations, they are usually thought of as sport watches.
Watches can reflect a person's status symbol compared to wallets, so collectors can love the art and craft of the watches and appreciate both the beauty as well as usefulness of the watches. For the casual consumers, however, it is unnecessary to consider a high level of engineering since the issue would likely be more styles and social advantages than to have a truly quality engineered project.
The Chronograph watch buying guide that is listed below show some of functions of the watch so that you can see how well they are made and help you make a clear decision on buying one.
1. High Accuracy
With chronograph watches, the accuracy has to be top priority. If you buy chronograph watches which have the certified chronometer, I think that is an optimal choice. Chronometer is a certification of accuracy tested by a Swiss laboratory, the Control Official Suisse des Chronometers (COSC).
2. Materials:
A. Case Materials:
Most of the cases are made of metal, so it is important to protect the movement and the dial as well as consider the style and durability of the case material. In high quality watches, Stainless Steel is the most popular metal because it is attractive and resists both discoloration and tarnish. Gaining in popularity is Titanium because it is lighter in weight and just as durable as Stainless Steel, but gold sets the standard for truly luxurious watches for men's timepieces.
B. Band Materials:
There are two different styles of watchbands such as the strap and the bracelet and available in many different materials. A series of interlocking metal links which is a bracelet and fabric, synthetic, rubber, nylon or leather is used for the straps. You can use casual designs and also dressy versions of your wardrobe to add beauty to leather. Some of the bands also use the fabric straps and fine faux leather. You can mix and match on your bands depending on which case you use.
C. Crystal Materials:
The crystal is the clear protecting cover fitted tightly over the face of the watch. Depending on the brand, style and price that material's crystal chronograph watch is different. It is often shocked or blows, so it should be as hard as possible. Because the crystal is made of soft material, it will be easily scratched and broken. Which will make the watch less enticing and presumably illegible, or if shattered, which will probably damage the watch and in the worst case you cannot repair it. There are four types of crystals that we often encounter: plastic, mineral, synthetic sapphire and sapphire. Amongst these, sapphire is the most expensive and hardest. However, pure sapphire is very brittle and fragile when it collided. Therefore, a proprietary material or synthetic sapphire can also be a good choice for you.
3. Movements
A. Quartz Movement
If you need precision, quartz movement is an excellent choice. A mechanical movement may be wrong several seconds in a day while a quartz movement only wrong a few seconds per year. A quartz movement is powered by using a battery. The most affordable watches usually use a quartz movement. They are cost effective and combine the movement of the chassis with the jewels of a mechanical movement that make the most durable and accurate quartz movement.
B. Mechanical Movement
This movement uses a spring that must be wound up by hand using the crown that is located on the case. As the spring slowly unwinds it releases the energy that powers it. These watches that are well built can last a lifetime. The mechanical watches are quite expensive because they are meticulously crafted and artistic wonders of the watchmaker.
C. Automatic Movement
The automatic watches have mechanical movements that contain the energy made by the wearers' arms that winds the spring. This means you do not have to wind the watch every day. Most of the luxurious and high-end watches are equipped with this type.
4. Size
A. Case sizing
At ablogtowatch.com, which is a famous site for watches, has surveyed hundreds of their readers. Ariel Adams, author of the site, said over 90% of men prefer watches with the size from 40mm to 44mm. So you can also choose within this range. However, if you want to be more certain, I'll show you a trick. Accordingly, please follow two steps below.
Step one: determine the size of your wrist
You should use a soft tape measure round your wrist (should be tightly wound)at the position in front of outcrops emergent in the carpal as shown.. In case you do not have a tape measure, you can use a soft rope or a piece of paper around the wrist position required to wear. Measurement is completed when you can measure the length of the hard yards or meters using online tools at: http://iruler.net/.
Step two: Formula for calculating the diameter to fit your wrist
- Convert size is measured in steps 1 to mm. For example: 16cm is converted to 160mm.
- You can get the size measurement by dividing the diameter of watchcase.
For example: You want to buy a watch with a diameter 38mm to 160mm of your wrist, the result would be 160:38 = 4.2
You need to be interested in the result of the division as mentioned above. The watch will best suit you with ratios ranging from 4 to 5. Less than 4 that is too large, greater than 5 that is too small.
For example: You have the wrist size with 160mm. Watchcase right for you will have sizes from 32mm to 40mm. 
Note:
- If your wrist is slim but big in width. You should choose watchcase has the index slightly less than 4.. 
- With sport watches and diving watches you can wear a watch with index less than 4 without any problems. 
- If your wrist is small, you should not choose watches too thick. 
- If the lug is too long, you should not choose sizes too big. 
- Square-shape watchcases always look bigger than round-shape ones. 
- With oval and rectangle watches, you can measure your wrist horizontally.
B. Band length:
Conventional watches for men have long wires from 196mm to 241mm. Usually, the kind of leather straps is perforated several holes to fit many different wrist sizes. With the kind of metal band, there are generally many chain links to be connected together. So, when you remove the chain to wear fit your wrist, you should keep those unused chains to prevent from the alterable size of your wrist, or the link that you are using is damaged.
5. Water resistant
Normally, chronograph watches have a high level of water resistance, especially for the chronograph with sporty style and diving watch. However, to be safe for daily activities such as swimming or bathing under the showerheads, you should buy chronograph watches at least 100 meter- water resistance.
6. How much is your budget?
You need to set up a budget for the chronograph watches. This is something you cannot ignore. There are many cheap chronograph watches on the market, but with a good chronograph watch, perhaps you should spend at least 100 dollars for it.
You can find Luxury Watches in our store
---
---