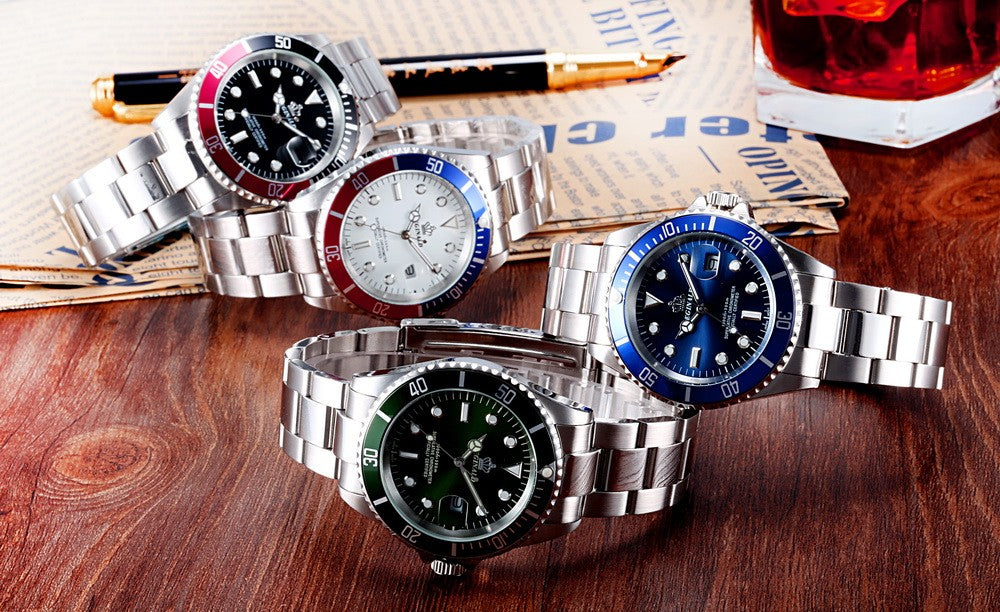 As if the urge to switch on your central heating wasn't clue enough, the passing of the autumn equinox is the official sign we've switched seasons.

As you unpack your roll necks and pea coat – praying your moth-fighting efforts weren't in vain – it's time to change up what's on your wrist to suit.


Unlike summer's bright straps and faces, which can be tricky to pair with whatever else you're wearing. While we'd normally steer clear of 'fashion' watches – you tend to pay for a lot of label, and not much watch – the RENAISSANCE is Italian made and boasts a rugged case and on-point STEEL strap that looks like it could withstand evenings spent chopping firewood. 

Available at bregawatches.com


Tudor North Flag

You tend not to match your watch to the weather in quite the same way as your outerwear – after all, even the most delicate mechanism can generally withstand a shower.

That said, it's good to know that Tudor's latest offering is built to best the same brutal conditions as the brand's North Prince, which was worn by the British North Greenland Expedition in the 1950s. Handy if you ever find yourself accidentally trekking across the Arctic tundra.

The North Flag also contains the first in-house movement from a brand that's long been known as 'Rolex's little brother'. A 70-hour power reserve and chronometer certification – both vital for the serious explorer – should ensure it soon shakes that epithet.

Available at thewatchgallery.com, priced £2,430.

Shore Projects 3 Newquay

Shore Projects' third release doesn't stray too far from a winning formula: simple watches inspired by classic silhouettes, at prices as impressive as the designs. Opt for either sea blue or our old friend forest green to inject any outfit with some seasonal colour.

The new range also offers an affordable way to match your watch to the changing seasons, thanks to the brand's interchangeable strap mechanism. Rather than having to head to a jeweller when you fancy a change, a small handle between the lugs pops the strap straight out, so you can swap in something else.

It's the pocket friendly way to make one watch work anywhere.

Available at shoreprojects.com, priced from £125.


Oris Divers Sixty-Five

Oris has always been a good bet for the man after his first 'proper' watch – the brand's automatics often barely break a grand – but its designs, especially the sportier lines, can be fussy.

Not so with this reissue of a 50-year-old diver's watch, which features nothing more than a rotating bezel, date window and one of the year's most handsome cases.

As reissues go, the Sixty-Five is a faithful one; the caseback is solid and, though the watch's 100m water resistance might not seem impressive today, it's true to the original's. Recognition that, in reality, the deepest most men will take it is the bottom of the washing up bowl.

Available at houseofwatches.co.uk, priced £1,150.


Archimede The 1950s

As leaves fall, party season looms. Which means it's time to invest in a dress watch. Unless you've pockets deep enough to justify one that only gets a few outings a year, you'll want to seek out a timepiece that works as well with a suit as a tuxedo.

You could do worse than Archimede. The German brand's newest release harks back to the clinical design of the 1950s, with an especially impressive curved crystal and matching hands and dial, albeit powered by a less traditional Japanese automatic movement.

But when a well-made mechanical watch is available for under £500, that's the sort of detail you'd be churlish to turn your nose up at.

Available at jurawatches.co.uk, priced £470.
---
---